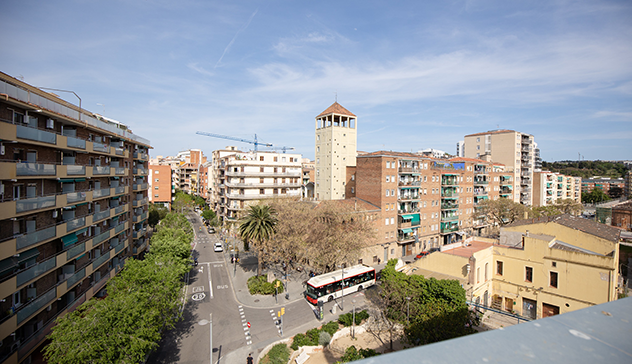 Grants for the refurbishments of residential buildings that satisfy energy efficiency requirements
For a more efficient, more environmentally responsible and more humane neighbourhood
Let's improve the neighbourhood to make it more sustainable and more efficient
The purpose of the Neighbourhood Restoration Grant Scheme is to finance the carrying out of restoration or refurbishment works to predominantly residential buildings, including single-household buildings and town planning or revised town planning for public spaces within action areas called Residential Environments for Programmed Restoration (ERRP) that have been established in settlements of any population size.
In the same vein, the Municipal Renovation Office (ORM) centrally manages the operation areas of the Neighborhood Plan, within the Programmed Renovation Residential Environments (ERRP)'s call, financed by the European Union-Next GenerationEU.
The following operation areas are included in the Neighborhood Plan:
Ciutat Vella: El Gòtic Sur, El Raval.
Sants-Montjuïc: El Poblesec, La Marina del Prat Vermell, La Marina de Port.
Horta-Guinardó: Sant Genís dels Agudells, La Teixonera, El Carmel, Can Baró.
Nou Barris: La Trinitat Nova, Ciutat Meridiana, Torre Baró, La Vallbona, Les Roquetes, El Turó de la Peira, Verdun, La Prosperitat.
Sant Andreu: El Bon Pastor, Baró de Viver, La Trinitat Vella (except Trinitat Vella urban regeneration area).
Sant Martí: La Verneda, La Pau (except La Pau urban regeneration area), El Besòs and Maresme (except SO Besos urban regeneration area).
On the other hand, a centralized management office is established for the urban regeneration operation areas: the Regeneration Office. The operation areas at neighborhood level are the following ones:
Besos-Maresme
Canyelles
Trinitat Vella
Can Peguera
La Pau
Congress-Indians
The Regeneration Office is located at Calle Bolivia, 250 (Provençals del Poblenou). You can also contact them by email inforegeneraciourbana@bcn.cat, and you will receive a response within in the next 72 hours at the most.
Would you like to know how to apply for neighborhood refurbishment grants?
These dropdowns explain the requirements and process to apply for these grants. You can find more information in the call for Applications for Refurbishment Grants under EU Next Generation funds.
Recipients
Owners' Associations and owners of vertical properties, whether incorporated or not.
Amount and term of the request
The proportion of the cost that can be grant-funded is directly proportionate to the reduction in consumption of Non-Renewable Primary Energy (EPNR) (less than the Building Book):
40% grant: when the reduction in consumption of EPNR is equal to or greater than 30% (maximum of €8,100 per dwelling).
65% grant: when the reduction in consumption of EPNR is equal to or greater than 45% (maximum of €14,500 per dwelling).
80% grant: when the reduction in consumption of EPNR is equal to or greater than 60% (maximum of €21,400 per dwelling).
Grants of up to 100% may be awarded in the case of persons in situations of vulnerability.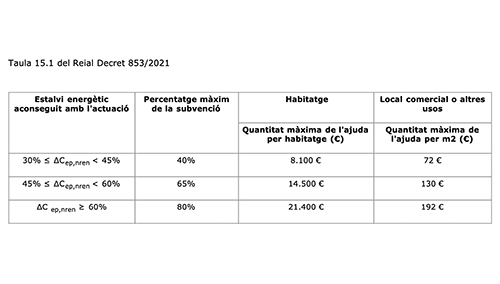 Documentation
You can consult the necessary documentation in the Call for renovation grants from the Barcelona Housing Consortium, or in the direct download links for each of the documents, which are found below (More information):