->C. de Lola Iturbe Arizcuren, 13
C. de Lola Iturbe Arizcuren, 13
->Promoció Carrer de Binèfar, 22
Promoció Carrer de Binèfar, 22
->Carrer del Marroc, 180
Carrer del Marroc, 180
->Carrer de Pallars, 477
Carrer de Pallars, 477
->Casernes de Sant Andreu
Casernes de Sant Andreu
->Plaça Glòries Catalanes, 1-7
Plaça Glòries Catalanes, 1-7
->APROP de Ciutat Vella
APROP de Ciutat Vella
->APROP de Glòries
APROP de Glòries
Accelerating the construction of public housing
Faster, more ecological and efficient construction
Barcelona's Municipal Institute of Housing and Renovation (IMHAB) is committed to industrialised public housing to boost growth of the public housing stock in Barcelona. This construction system had already been used for the APROP provisional properties, built from recycled containers, and will now also be used to build permanent housing.
Fabricated and assembled housing allows the execution times of works to be reduced and is more sustainable, as it can be built from reused materials. In the specifications published for the new tenders for industrialised public housing, architectural quality, reduction of building times, energy consumption and CO2 emissions associated with the manufacturing of materials comprise 85% of the weight of the score when choosing the companies to develop these projects.
What is industrialised public housing?
Industrialised construction is a building system that uses the most innovative techniques and processes and in which the structural components are fabricated in a workshop, transported to the final location and assembled there. This kind of construction allows design and production processes to be automated. It is an incipient system here but very widespread in countries in the north of Europe. 
Industrialised construction has several advantages compared to the traditional construction system:
Efficiency: Details executed with precision, allowing simultaneous tasks and saving on costs and time. 
Health and safety: Much of the construction process is done in workshops, which are much better equipped and therefore safer spaces for the people who have to carry out the construction process. Cleaner and tidier work.
Productivity: As it is carried out indoors, there is no dependence on weather conditions to manufacture the parts.
Materials: Dry construction. High innovation. Use of materials such as in-situ concrete, steel, wood, etc.
Sustainability: More control and traceability of materials. Reduction of waste. Possibility of replacement and recycling of components.
Decision-making: The incorporation of industrialists from the outset optimises systems by the designer and solutions emerge in a detailed and consensual manner.
Environment: Low CO2 emissivity. The choice of more sustainable materials and construction systems for the façade and vertical structure makes it possible to reduce CO2 emissions by 30%.
What public housing will be built soon?
Barcelona City Council began its commitment to industrialised construction with the APROP properties. Now this construction system is also used for the permanent public housing.
In the near future, the Barcelona City Council will build 328 public housing units using industrialised production, distributed in six developments. Most of them will have a wooden structure and others will be built with 3D modules.
The planned developments that will come to light in the coming months are:
C. Marroc, 180 (45 houses)
C. Pallars, 477 (42 hou.)
C. Lola Iturbe Arizcuren, 13 (40 hou.)
C. Binèfar, 22 (24 hou.)
C. Fernando Pessoa, 53-57 (56 hou.)
C. Víctor Colomer, 6-12 (70 hou.)
Pl. Glòries Catalanes, 1-7 (block A of Illa Glòries) (51 hou.)
By districts, Sant Andreu will host two of these buildings, specifically those referring to the Casernes de Sant Andreu, which will be located at Carrer Víctor Colomer (No. 5 on the map) and Carrer de Fernando Pessoa (No. 6 on the map).
In addition, the projects to build 202 apartments on four plots in the Sant Martí district, corresponding to Carrer de Pallars (No. 1 on the map), Carrer Marroc (No. 2 on the map), Carrer de Binèfar (No. 3 on the map), Carrer de Lola Iturbe Arizcuren (No. 4 on the map) and Plaça Glòries Catalanes (No. 7 on the map), have already been awarded.
With this tender it aims to boost an innovative, cheap, quick and ecological construction technique. In conventional housing construction works, development times are 53 months, however, with the industrialised system they will done in a maximum of 37 months.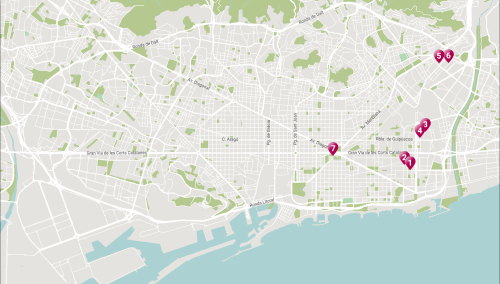 Do you know the APROP accommodations?
Given the urgent need for social apartments, and to expand the public housing stock and combat the expulsion of neighbors, in 2019 the APROP project was launched as a complementary measure of the Plan for the right to housing. APROP housing, which stands for Provisional Proximity Housing, appears as a new model of temporary housing apartments of fast, sustainable, and quality construction, and in no case replaces the developments already planned, which until the end of the term represent a total of 4,000 homes built or in process. 
While it takes six to seven years to build public housing, from the start of administrative tasks until the keys are handed over, with APROP housing this period is significantly reduced, with an approximate duration of only one and a half years or less. A quick response model, the result of necessity, that works successfully in other cities around the world such as London, Copenhagen and Amsterdam. The construction of the building, among other features, stands out for its industrialized methods, using recycled shipping containers.
The first step, in Ciutat Vella​
The pilot test became a reality in 2020 in Ciutat Vella (No. 2 on the map) and featured a total of 12 accommodations, four with two rooms and 60 square meters of floor space and the other eight with one room and 30 square meters of floor space. According to a study commissioned by the City Council, the use of this innovative construction process in the city saved 33% in non-renewable energy and CO₂ emissions and 48% in resource consumption.
The second APROP, in Sant Martí
A few days before the end of 2022, the second of the APROP accommodation buildings were completed, which was built in a record time of 26 weeks, and is located at 33-41 Bolivia St., in les Glòries (No. 1 on the map), were placed. It consists of a total of 42 accommodations, spread over 7 floors and made up of 77 shipping containers, which can accommodate 100 people.
The housing allocation includes people in emergency housing situations, young people and single-parent families.