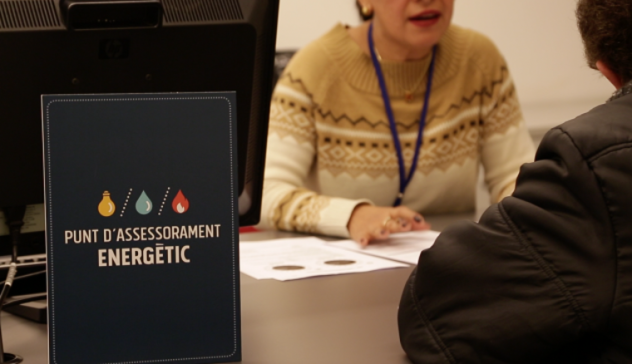 The Energy Advising Points have a presence in all districts of the city. They offer you personalized attention and the necessary interventions so that you can exercise your energy rights. Contact them:
BY TELEPHONE: at 900 859 659, from Monday to Friday, from 9.00 am to 2.00 pm, and also on Thursday from 15.00 to 18.30.
BY EMAIL: at the following addresses:
Ciutat Vella: paecv@bcn.cat
Eixample: paeeix@bcn.cat
Sants-Montjuïc: paestm@bcn.cat
Les Corts: paelc@bcn.cat
Sarrià-Sant Gervasi: paessg@bcn.cat
Gràcia: paegr@bcn.cat
Horta-Guinardó: paehg@bcn.cat
Nou Barris: paenb@bcn.cat
Sant Andreu: paesa@bcn.cat
Sant Martí: paesm@bcn.cat
Contact the Energy Advising Points
Energy Advising Points watch out for your rights!
Energy Advising Points are a Barcelona City Council service that offer the information, assistance and intervention necessary for people to exercise their energy rights and prevent companies from denying them access to basic utilities.
The Energy Advising Points have been serving all the districts of Barcelona since January 2017. Contact the energy advice point in your district. Barcelona City Council wants to guarantee that no supply cuts are made to people or families at risk of residential exclusion living in the city of Barcelona, ​​as set out in Law 24/2015.
Services available at Energy Advising Points
Fancy reducing your home's energy expenses?
We can guide you so you can improve your household's energy efficiency, optimise your electricity, water and gas services and thereby reduce your additional costs.
Do you understand your electricity, water and gas bills?
We can advise you so you understand the service you have hired in detail. We can give you information on capacities, rates and the supply company that best suits you.
Do you need help with processing your subsidy applications and making arrangements?
We can help you to make arrangements with companies such as rate changes and suppliers, removing extra services and managing social vouchers and newsletters.
What services do the Energy Advising Points offer you?
In these drop-downs, we explain how Energy Advising Points can support you.
Have you received a non-payment reminder?
A reminder is a notification from the company informing that there is an unpaid bill, and under no circumstances involves being cut off.
If you can't afford to pay the bill, head for the energy advice point in your district. Your situation will be evaluated and a procedure will be started to prevent the situation getting worse.
Have you received notice that you will be cut off?
Before cutting anyone off, energy supply companies are obliged to check that non-payment is not due to a lack of financial resources.
Whether or not you are a user of social services, go to an energy advice point.
Your situation will be evaluated and you will not be cut off while the process is in progress.
Once the risk of residential exclusion has been recognised, a report will be drafted which must suspend any order for energy supplies to be cut off.
A year after the report is issued, the company can ask the user to provide evidence that they are still at risk of exclusion.
Have you been cut off already?
Energy supply companies are obliged to maintain services for people in situations of residential exclusion.
You need to go in person to the energy advice point in your district. Staff there will help you re-establish your supply and process the application for the report confirming residential exclusion.
How can you contact the Energy Advising Points?
You can contact the Energy Advising Points:
From January 2023, by telephone at 900 859 659, from Monday to Friday from 9.00 am to 2.00 pm., and also on Thursday from 15.00 pm to 18.30 pm.
By email, at the following addresses:

Ciutat Vella: paecv@bcn.cat
Eixample: paeeix@bcn.cat
Sants-Montjuïc: paestm@bcn.cat
Les Corts: paelc@bcn.cat
Sarrià-Sant Gervasi: paessg@bcn.cat
Gràcia: paegr@bcn.cat
Horta-Guinardó: paehg@bcn.cat
Nou Barris: paenb@bcn.cat
Sant Andreu: paesa@bcn.cat
Sant Martí: paesm@bcn.cat